Shandong Weifang
Shandong Weifang, the Kite Capital of the World
Weifang is a city with a lot of history. Situated in the center of the Shandong province, this city is also known as the "Kite capital of China". It is also the only place in China to have a museum of kites. The best time to travel to Weifang is during spring time. The city hosts the first international kite festival and continues this tradition every year. Moreover, the spring is also a great time to go because the weather will be nice before the rainy season.
Weifang also has an extensive historical background. It was the hometown of many important political figures as well as the new home to many artists and writers. Emperor Shun was one of the most well-known leaders in China and his hometown was Weifang. He was a member of the Three Sovereigns and Five Emperors. This is a mythological group made up of demi-gods and emperors. Today, the emperors are considered as cultural heroes. Shun was also known for his modesty and offerings to the gods. Another famous celebrity that grew up in Weifang was Zang Kejia. He was a famous Chinese poet and writer who did propaganda work for the army during World War Two. He published his own works, some included army poetry. Furthermore, Weifang is one of a few places in China where they found dinosaur fossil remains. The city is also the home to many historical relics that would make impress any history buff.
The Shihu Garden is another great tourist stop in this city. The garden is not only one of the most beautiful in Weifang but also is rich in historical context. The site was the home of Ming dynasty and it houses a compact but well preserved garden and many small building complexes. The peace pool and the rustic pavilion will astonish with their beauty. When you walk along the lake, you will feel the connection between nowadays and past also, you will get lost in the beauty of the garden.
Local Delicacies
Weifang Chaotian (Facing the Sky) Pot
In the Qianlong reign period of the Qing Dynasty, this dish was conceived when the pot did not have a lid (hence the name). The dish is prepared with pigs' entrails, meatballs, dried bean curd, plus some corianders and soy sauce. The meat and vegetables from the Pot are especially delicious while eaten with thin cakes.
Chicken and Duck Hele
In history, hele was a type of noodle made from buckwheat or sorghum flour. Later the people of Weifang used wheat rather than buckwheat to make noodles, added chicken, duck and various kinds of seasonings and named it hele (meaning harmony and happiness). Chicken and Duck Hele is thin, smooth, refreshing, tasty, and nutritious, and features noodles of beautiful color.
Gangzitou Baked Cake
Round and large, one Ganzitou backed cake is thin on the edges and thick in the middle. Every cake is well baked, crisp, and aromatic.
Jingzhi Golden Thin Noodles
As traditional food of Jingzhi Town, Anqiu City, the golden thin noodles are prepared with high-quality flour, eggs, and salt resulting in a light yellow color and a refreshing and delicious taste.
Qingzhou Whole Sheep Soup
Prepared with all parts of the sheep, the Whole Sheep Soup is a traditional dish of Qingzhou and features a sour, spicy, aromatic, and delicious taste.
Pheasant Soup
Qingzhou and Linqu are famous for pheasants. Pheasant soup is not only delicious, but also nutritious.
Forest Restaurant in Fuhua Amusement Park
Home to famous chefs, this renowned restaurant serves both Chinese and Western food. Their specialty is Shandong and Guangdong cuisine with famous dishes including, Stir-fried Cashew Nuts and Finless Eel, Spiced Salt Catfish, and Braised Turtle Soup, in addition to pizza.
Address: 197 Dongfeng Dongjie, Weifang
Fanhai Fishing Village
Serving Shandong, Huiyang and Guangdong, this restaurant features cuisine prepared with fresh seafood.
Address: On the opposite side of Fuhua Amusement Park, Dongfeng Dajie, Weifang
Mengyangfu Green Food Restaurant
Located in the center of Weifang, this restaurant serves both ethnic and dietetic foods. Each customer receives  complimentary blessings from the Hulun Buir League. Famous dishes include Cooked Haliaoba, Corn Buns and Upper Parts of a Leg of Pork, Braised Soy Sauce Mutton, Fried White Mushrooms, Mengyang Drunk Crabs, Stir-friend Meat, etc.
Address: Jiankang Dongjie, Weifang
75°
Weather from OpenWeatherMap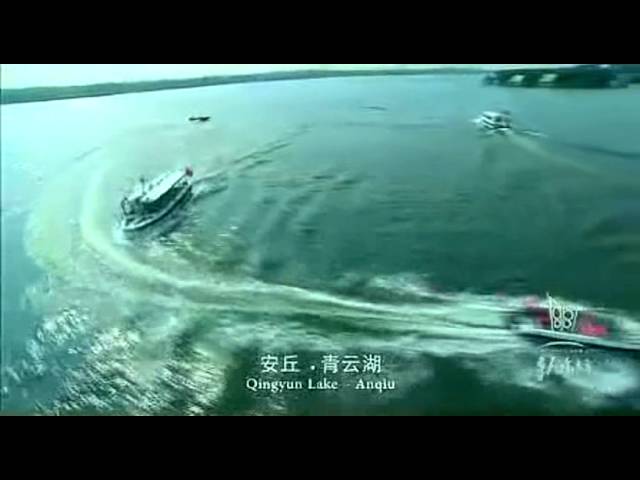 VIEW VIDEO
Shandong Weifang: Can't Miss Events
Weifang Kite Museum
Weifang Kite Museum is the first and largest kite museum in China. The design of the building is unique. The roof top design is a huge dragon which looks like a dragon flying in the sky. Kites were invented during Han Dynasty and it already has about 2,000 years history.  This museum shows the culture and history of kite flying in China, thousands of different types of kites, kite paintings, writings and pictures. It also demonstrates different types of kites from foreign countries. Moreover, tourists can not only learn about the production process of kites, but also create their unique and special kites.
Yangjiabu Village
Yangjiabu Village is the northeast part of Weifang and is the home of woodprint painting. This has recently become a large tourist attraction. The woodprint paintings are still done in the traditional fashion. There are about one hundred family workshops produce the art that decorates the homes for the Chinese New Year traditions. This is a great place to see not only to get of the city pace for a bit but is a great way to immerse in the traditional culture and to see incredible works of art.
Shandong Weifang Attractions
Mountain Yi National Park
Mountain Yi is one of the top five mountians in China, it has also listed on 5A National Park in the country.  It is about 0.64 mile high above the sea. Also, the Black Wind Cave spot is one of China's four famous novels, "Water Margin" ,where Kui Li killed  tigers.
For those looking to experience the outdoors, Mount Yi National Forest Park is a tranquil place to visit. The mountain is referred to as "the majestic mountain of Shandong". There are waterfalls at the park as well as a reservoir and a temple. The breathtaking views will astonish you when you stand at the peak of the mountain which is 1,030 meters. Mountain Yi has a long history as well. This is a place where Emperor Shun placed offerings to God.
There are some feature tourist spots in Mountain Yi:
Lion Mesa:
Lion Mesa is named due to it's shape. The mountain itself looks like a huge lion, stading in the mountain.
Hundred Miles Waterfall:
Hundred Miles Waterfall is the longest waterfall in the northern part of China. During the summer time, tourists feel chilly due to the waterfall rush down from the mountain, and during the winter time the waterfall freezes. A lot of tourists go there for ice climbing during the winter time.
Shouguang High-Tech Demonstration Vegetable Garden :
Shouguang is famous for the vegetable, it is also known as the "Vegetable Hometown of China". It has a variety of plants, and vegetables.  Shouguang has the largest vegetable market in the country. In order to promote the Vegetable Brand, Shouguang grows high rich nutrition, eco-friendly vegetables. Shouguang High-Tech Demonstration Vegetable Garden has also listed as the 4A National Tourist Spot.
Moreover, Shouguang High-Tech Demonstration Vegetable Garden hosts "China Shouguang International Vegetable Technology Exhibition" from April 20th to May 20th  every year. The exhibition has been 14 years since the first one which was held in 2000. Alos, this festival is the only one interntioal vegetable exhibition in the country.
Shandong Weifang Activities
Beihai Frisbee and Bowling Square
Founded in September 1996, Beihai Frisbee and Bowling Square is the largest bowling hall with AMF22 courses. It is conveniently located near transport facilities and serves as a training center for professional bowling athletes.
Address: 237 Shengli Xijie, Weicheng District, Weifang
Tel: 0536-8360040
International Kite Festival
Weifang city is also known as the "Kite capital of China", Weifang would held the International Kite Festival during April 20th to 25th every year. Also, International Kite Festival attracts more than 30 countries tourists come to join the festival. This festival would be held outside the Weifang Kite Museum. The activities include the opening ceremony, the kite flying activity, the international and national kites design competition, Weifang Kite Museum tour, Jia bu Yang traditional entertainment show, having meal and playing games with local farmers.
Jia bu Yang traditional entertainment is one of the largest kite factories in China. They produce the high quality, colorful kites. One of the famous kites, which are centipede kite, is also known as "The Best Kite in the world".
Tourists can play and see many different kinds of shapes and colorful kites. More and more people can get to know about Weifang city by the International Kite Festival.
Shandong Weifang Shopping
Shandong Weifang Planning
Large passenger planes, such as A300 and B767 can park at the Weifang Airport. Scheduled flights go from Weifang to Beijing, Shanghai, and other cities.
As a transportation hub in the Shandong Peninsula, Weifang has advanced land transport facilities. The Jiaozhou-Jinan Railway, the Jinan-Qingdao, and Weifang-Laiyang expressways, and the Weifang-Xuzhou and Yantai-Weifang highways run through the city. The public transport in the city proper is fairly developed. The bus lines to tourist attractions in Weifang include:
Shihu Garden – Bus No. 4 and 23 go from the railway station to Shihu Garden. Fee is one yuan per person and five yuan by taxi.
Museum of Kites – Bus No. 1, 5 and 20 go from the railway station to the museum. Fee is one yuan a person and five yuan by taxi.
Fuhua Amusement Park – Bus No. 20 goes from the railway station to the amusement park. Fee is one yuan per person and 13 yuan by taxi.
Fuyan Mountain Tourism and Holiday Resort – Bus No. 9 goes from Xinfeng Commercial and Trade City to Fuyan Mountain via the railway station, Fee is two yuan per person.
Yangjiabu Folk Customs Garden – Bus No. 5 goes from the Weifang Railway Station to the Folk Customs Garden. Fee is one yuan per person.
Airline information: 0536-8291067
Train information: 0536-8564073
Bus information: 0536-8233345
Traffic police: 0536-8288062